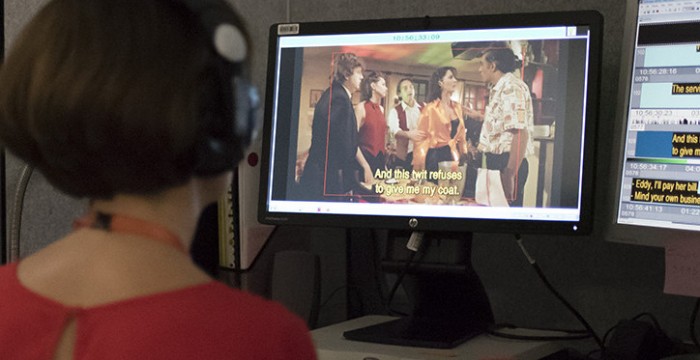 Whether it's for the big screen, television, a website, or a company, subtitling your multimedia content will help you reach a wider audience. Subtitling or dubbing your video content is one of the key steps to expanding your business internationally. Based on its experience in subtitling services, Protelo works with translators who specialize in faithfully transcribing the spoken texts of your commercials, institutional videos, documentaries, videogames, and business videos, respecting the time a viewer needs to read the subtitles and the space on the screen.
Transcription and Translation
Transcription and translation employs our professional transcribers who watch and listen to the recording closely to transcribe the spoken word. The script is then checked to make sure nothing is omitted. Then, translators translate it into the target languages so that it is as informative and impactful as the original. Role information and accurate time codes are added for subtitling use.
Subtitle adaptation is the art of adapting the number of words per minute, lines per subtitle, and characters per line, taking into account reading speed, timing, and positioning. We build the timecodes by going through the footage frame-by-frame using professional subtitling software. This ensures that the video can be watched and the text can be read comfortably and easily at the same time.
Video can be encoded with the new subtitles in various formats. We always provide various examples of subtitle output for your selection. You can choose to receive your subtitles in over 40 formats, including: AQT, ASC, ASS, CIP, DAR, DAS, DAT, DKS, FDX, FPC, HTML, JS, JSS, LRC, MPL, MTL, OVR, PAC, PAN, PJS, RT, RTF, S2K, SAMI, SBT, SBV, SCC, SIF, SMI, SON, SRF, SRT, SSA, SST, SSTS, STL, STL, STP, SUB, TTS, TXT, USF, VKT, VSF, VTT, XML and ZEG.
When videos show text on the screen, and it is not spoken, that screen text also requires translation. In order to differentiate between the screen text and dialog, the screen text is identified with an asterisk within the subtitle.
Captions are frequently used for translation purposes where the source language is different from that of the country where the video is being aired.  Also, open captions are predominantly used for the deaf or hard of hearing.
Closed Captioning – with closed captions, inclusivity for foreign speakers and SDH is the main purpose, just as it is with open captions.  However, closed captioning is not burnt permanently onto the video/film file; there is an option to turn the captions off.